Third in the series will be Italy, holiday destination #1 for Germans. Thanks to our fellow swapper for a great portrayal of this lovely country.
Hi,
I'm an Italian student who lives in the North East of Italy, not far from Venice. I added some pics of my town, Este, which is quite small, but also quite nice.
I study at University of Padua, which is one of the oldest of Europe (1222 a.C.); I study Modern Languages for Communication and Translation: English, Russian and Romanian.
I like both Padua and Este, what I don't like is Italy in general, LOL! Well, I just don't like the way it's ruled and the division between North and South; I wish Italians could be more united, but we are too much different to get on well, LOL. For example, we don't speak only Italian, but each region, each province and even each town has got its own dialect. If you move from Este to Monselice, which is 7 km from Este, you will hear a different accent; Padua's dialect is different from Este's one, and so on.
And, as I said, the greatest division is between North and South, and not only for dialects. To me, South is a completely different world! They're more open-minded and extroverted, they talk loud all the time, while in the North we are more suspicious and introverted. I'd rather get on well with an English than with a Southern Italian!
It would take MONTHS to talk about what I like and what I don't like about Italy... sometimes I feel proud of being Italian and sometimes I feel so embarassed and shameful, especially when Berlusconi says something stupid in front of the cameras of the whole world...
Our political situation is... aaarrrrgh, don't let me talk about that! It's a mess!
So here are some informations about my everyday life =)
- For breakfast, I usually eat what I find at home, like milk and Cheerios or tea with cookies, but when I get my salary I start spending it every morning at the coffee bar, with a cappuccino and a croissant! And for cappuccino I mean a REAL cappuccino with REAL coffee, not that colored water they drink in the USA! I see in movies that they always drink liters of that stuff, while you could just take a little cup of well-done-coffee and feel full of energy for the whole day! (I hope I didn't offend any American coffee lover =)
- In a typical work day I would get up at 7.30 (on Mondays, Thursdays and Fridays) or at 6 (on Tuesdays and Wednesdays), take the train and go to Padua, drag some friends to a coffee bar before the lessons start; spend the free hours studying at the University library or going shopping to Zara and Benetton or Accessorize, go to the cafeteria or just eat a sandwich. I usually go home at 7 pm (on Mondays and Tuesdays) at 5 on Wednesdays and at 1 am on Thursdays and Fridays.
If I get home early, I usually have lunch at home with pasta (when my French friend visited me was shocked because we eat pasta every day, LOL!), then I spend some time at the pc and then I go to the library or to the gym. I usually have dinner at 8-8.30 with meat/fish and vegetables and then I watch television with my mom, my sister and her parasitic boyfriend (they always talk while I want to listen to the television!).
Sometimes I go out with my friends because I work on Saturdays and Sundays.
- A day off: on Sunday, my mom usually cook something special and she buys little cakes. On this day I usually relax or go out with some friends.
- Some of the most important holidays in Italy:
1)
June, 2nd, Republic Day
The day commemorates the institutional
referendum
held by
universal suffrage
in 1946, in which the Italian people were called to the polls to decide on the form of
government
, following the
Second World War
and the fall of
Fascism
. With 12,717,923 votes for a
republic
and 10,719,284 for the
monarchy
, the male descendants of the
House of Savoy
were sent into exile (and now they sing at San Remo Festival, d'oh!).
To commemorate it, a grand military parade is held in central
Rome
, presided by the
President of the Republic
in the role of Supreme Commander of the Armed Forces. The
Prime Minister
and other authorities attend too. Prior to the foundation of the Republic, the Italian national day was the first Sunday in June, anniversary of the granting of the
Statuto Albe
rtino
.
2)
August, 15th, Ferragosto
Originally, it was related to a celebration of the middle of the summer and the end of the hard labour in the fields. In time,
Roman Catholicism
adopted this date as a
Holy Day of Obligation
to commemorate the
Assumption
of the Blessed Virgin Mary.
Before the
Roman Catholic Church
came into existence, however, this holiday was celebrated in the
Roman Empire
to honor the gods—in particular Diana—and the cycle of fertility and ripening. In fact, the present Italian name of the holiday derives from its original Latin name,
Feriae Augusti
("Festivals [Holidays] of the
Emperor
Augustus
")
Almost the entire month of August was taken as a holiday and leisure time in Italy in honor of this feast day.
In present days,
Ferragosto
is mainly a short holiday when Italians take brief vacations.
3) Each city has its own Saint patron and they celebrate him/her one day of the year. Este's patron is Santa Tecla and she's celebrated on September, 23.
- I think I don't need to say that Italy is famous for pasta and pizza, so I will list some dishes that are typical of my own region, Veneto:
Baccalà con polenta (Stockfish with cornmeal porridge)
Musso with polenta (Mule with cornmeal porridge)
I know that mule could sound disgusting, but it's really yummy! Sorry to vegetarians =(
Lasagne alla bolognese or Pasticcio (meat pie)
Fritole (Italian: Frittelle) (Fritters)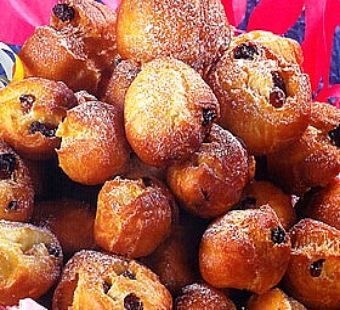 Torta sbrisolona (I can't find any translation, LOL)
Spritz - the most drank cocktail of North Italy, really cool at this moment
When it's time to eat, I'm really proud of being Italian!
I hope you had fun reading my email!
Oh Italy,
the news we get about Berlusconi are really negative. I only partly understand why so many Italians vote for him again and again, despite having seen some background stories on his public appeal.
I had to laugh out loud when I saw the description of the south and the north. I'm from the north of Germany as well and could have said exactly the same thing about the nature of people. Northerners here are just as reserved, but honest and make true friends. It can't be about the weather as the south of Germany is rather similar to the north of Italy. It can't be economics either. In Germany the north is poorer, in Italy it's more the south. If anybody has a clue what could be the reason just comment below :-)

DISCLAYMER:
All umarked text in this post was supplied by a third party. The opinions expressed are not the same as those of the author of this blog. According to §§8 to 10 of the German Tele-Media Act
, I am not obligated to monitor third party information provided or stored on my website. However, Ishall promptly remove any content upon becoming aware that it violates the law. My liability in such an instance shall commence at the time I become aware of the respective violation.